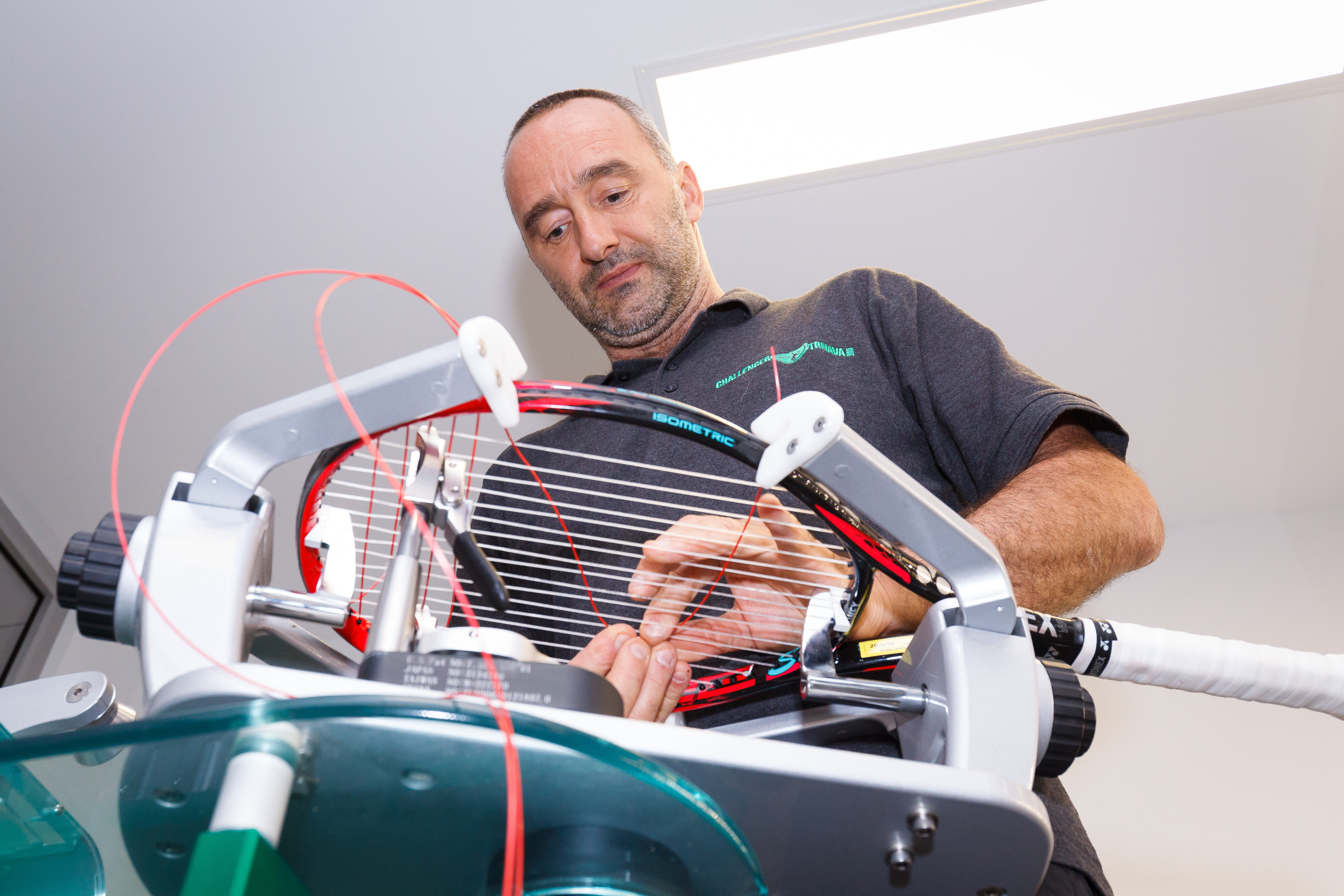 1285 racquets in 10 years
Strings on tennis racquet can strongly affect player's performance during the tournament, so every such top event needs a leading expert in this field. Expert for EMPIRE Slovak Open is since 2009 in-Samorin-born Robert Nagy. He is the man, who can string a tennis racquet in six minutes, although it happens really in exceptional cases. However, when we talked about his work, we learned a lot more about him.
How long do you cooperate with the EMPIRE Slovak Open tournament?
"Our cooperation was established in 2009, so it means from the beginning of the tournament. I have worked as stringer for men's ATP challenger in Trnava, which was also running on TC EMPIRE courts. I met people from the club regularly. They tried to work with me in the first year and as you would see I am still here."
How many racquets you made for the players during all those years? And how many strings you used? Are you able to estimate the count?
"I don't need to estimate because I keep accurate statistics from each tournament. With each player I always write the type of racquet, the type of string, the required tension, the resulting dynamic tension and the number of racquet. So I have exact numbers. In 10 years it was 1286 racquets exactly. On average, I used 11 meters of strings for one racquet, so it means 12 860 meters of string totally. Everything went with my hands and with my strings machine. "
How long does it take to string one racquet? Is it different from a particular brand?
"If I'm not in hurry, it takes about 15 minutes for one racquet. In addition I need another 3 minutes for cutting the string and one minute for clean racquet from the clay. Then will come another 2 minutes to rewind the new grip and for wrap up the racquet. But if I am in a hurry, I can do it in six minutes. But it happened really in exceptional cases. I mean cases when players need your racquet immediately, because he has to take it on court, where he plays."
Can we say that stringing a racquet is difficult work? Do you need to have some training sessions? I mean training sessions with machines you use.
"Stringing as is not such science. It is a monotonous activity to be done under certain rules. Art and science is to understand the strings, their characteristics, interplay with the player's technique, their requirements and their current performance. Combined with racquet balancing techniques, it started to be experience-based art. There are training sessions for weaving and service of racquets organized by ERSA, which is European Racquets Stringer Association. They used to be on European level and also world-class level. Various levels of certification can be made there for a fee. Training is not done on machines. Basically, they are all the same and differ only in brand and design. I'm working from the beginning on the machine called PRINCE NEOS 6000 and I am very satisfied. I wouldn't trade this machine for anything, travelled with me all over the world and never disappointed me in 10 years."
How much can a string affect the performance of a player? How many percent can add or remove from player's performance?
"The string, its type, thickness, properties and way of stringing significantly affect the racquet and, of course, the performance of the player and player. It is a real art to combine everything together to give the player 100% support in his game."
Strings with thicker strings will last more. On the contrary, the weaker string will last less, but it will give the player better feeling during game. What preferences do most professionals have in this?
"Players and players on both the ATP and WTA Tour use different strings. In most cases, it depends on what brand of racquet the player is using. Respectively what sponsor they have. And also what type of game he or she prefers, how they feel the game. Professionals in most cases play with strings with thickness of 1.23-1.25. But yes, what you said is true. The thinner the strings are, the more is player's flexibility and comfort. Of course, it is not possible without detriment of strings."
When you string a racquet, you are alone, just you and racquet. How you "kill" time during your compulsory activity. Do you also listen to your favourite music? Or do you prefer to discuss with players?
"I listen to music in that time. It helps to keep me myself in mental well-being and in a good mood. Since I am a musician myself and play drums and guitar too, I listen to concerts. I love musicians like Bruce Springsteen, Joe Cocker, Sting, Paul McCartney, Phil Collins etc. During the day, when the players or their coaches come up with racquets to me, of course, I speak with them. There were very positive moments at the tournament in Trnava, because players love direct contact with the stringer. They can take all the necessary details with him. And also like to talk. Personal contact and trust between a stringer and a tennis player is an alpha and omega of good cooperation. I have to say that the Trnava tournament is really specific in this way for me. Also, tennis players appreciate it very much."
You string racquets to women and men too. Is there any elementary difference between them in this way? I mean in length, difficulty strings, etc…
"No elementary difference. However, there is a significant difference in the number of string. As about tournament with the same number of participants, I used to string about 220 racquets for men's tournament and about 130 racquets at the women's tournament. Men have bigger consumption."
Which biggest stars of world tennis used your services? Who made the best impression on you?
"From top players, except Federer, I string up or balanced rockets to almost all. I have done about 250 ATP, WTA and ITF tournaments in 15 years and I have had the pleasure of meeting many tennis players and stars. With many of them I have a very friendly relationship. I especially understand the young generation - Coric, Kyrgios, Medvedev, Zverev, as they played with my son Oliver in youth categories. We had a lot of fun at tournaments. But I was most impressed by Ivan Lendl at an exhibition in Bratislava and Borg at an exhibition in Budapest."
How did you get to string a racquets? At what level did you play tennis before and where did you start with this game?
"I started a long time ago when I was preparing racquets for myself as a boy with awl and wood-coated hose. I began to devote myself to it when I was preparing rockets for my son. I've been playing tennis since I was 10 years old. I was self-taught. Once I promote to Slovak championship as a junior and I played for the first time for the home club in Samorin in the first league. I was not such a good player, but I lived with tennis at full blast and as you can see, I stayed with him."
What are you doing except preparing racquets? Do you have an e-shop or you play tennis?
"I have my e-shop, which represents various tennis brands. I imported LOBSTER recording machines, PROSTRINGER stringing machines, strings like SOLINCO, TOPSPIN, ISOSPEED and KLIP, as well as BIDI BADU clothing, UNLIMITED balls and everything that is needed for tennis, including training aids. I have been an official clothing supplier for the Slovak Tennis Association for 10 years. Everything can be found at www.ttk.sk."
As we know, you like hiking, going on trips with your dog. Which trip are you especially proud?
"Tourism and fishing are my great hobbies. And since I have a dog Connor, I prefer tourism. He is very handy and active and loves to climb the mountains. In Slovakia, we have beautiful nature full of beautiful parts. We climbed all together High Tatras, Low Tatras, Great and Small Fatra, Carpathians. But I am most proud of the walk through the way of Slovak National Uprising (SNP), which comes from Dukla to Devin. It is a walking tour across Slovakia with a length of nearly 800 km with a 30 kg backpack with you. It takes about 30 days. Last year we went through the first half, but because of the bad weather we had to end it. It's started to be dangerous. This year, I want to finish it."
Your son Oliver was ranked second in Europe in May 2010 in ETA ranking. He finished the year as No. 6 and he played also for TC EMPIRE Trnava. What is he doing now?
"Oliver continues to play tennis. He trains players. I keep my fingers crossed for him."
You're definitely a tennis fan. Who's matches and why do you like to watch?
"I'm a tennis fan and I like to watch tennis matches. At tournaments in the last few days, I sometimes watch them live. And who do I like to see? I like Monfils and Kyrgios. You never know, what is going to happen on the court. But, of course, looking at Federer and his matches is a dainty."